Schaeffer Mortuary was started by John and Mary Schaeffer in 1885 in the back of the furniture store located in downtown Caldwell. On October 23, 1911, their son John D. Schaeffer received his Embalmer's License and joined in the family business. John D. was also the only licensed Victrola dealer within several miles which allowed him to also start up the Border Queen Music Store. All three businesses were located in the same building at 4 North Main, the present day location of the Nostalgia Nook.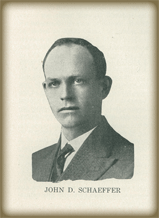 For over 120 years, the Schaeffer Mortuary has been an icon on main street Caldwell. The business remained in the Schaeffer family for many, many years, down through the Thompson family who sold to Mike Reager. Mike sold to Mark Blankenship who in turn sold out in Nov. 1990 to the Elliott Funeral Homes, located in Anthony and Harper. That is when David Mardis returned to Caldwell to manage the Elliott-Schaeffer Mortuary. In July, 2008, David & Teresa purchased the mortuary from the Elliott's and on July 23, 2008 reopened under the name of Schaeffer Mortuary.
​
Many changes have taken place since 1885 with John and Mary starting in a furniture store. The same dedicated service they offered to a rough and rowdy cowtown back then is still offered today. Schaeffer Mortuary has been a tradition since 1885 and will be for many years to come located just one door north of the original building site.
Co-Owner, Funeral Director & Embalmer
David was born and raised in Caldwell, Kansas, the son of Floyd and Barbara Mardis. David graduated from Caldwell High School In 1979 and attended Kansas City Kansas College of Mortuary Science graduating in 1981. He was employed by Elliott Funeral Home, Harper, Kansas for 10 years before returning to his hometown of Caldwell in November of 1990. He managed the Elliott-Schaeffer Mortuary for 13 years before taking a position with the Day Funeral Home and Crematory. When the opportunity came to purchase the Schaeffer Mortuary, it seemed only natural to purchase it and continue with its tradition of service. He and his wife Teresa also own Mardis Monument Company and the Nostalgia Nook in Caldwell. They have two daughters, Sarah and Rebecca. When David is not in the office he is in the area cemeteries setting and restoring monuments. David is very active in the Caldwell community serving as the 2008 Caldwell Chamber President. He also serves on the Caldwell Alumni Board and is a member of the Talking Tombstones where he portrays John Schaeffer.
Co-Owner and Funeral Director
Teresa Mardis, daughter of Henry "Bud" and Luella Mayer, was raised in Norwich, Kansas. She graduated from Norwich High School and went on to attend Hutchinson Community College and Kansas State University. She graduated with a degree in Home Economics Education and taught Home Economics until marrying David in 1984. She became a licensed Funeral Director in 1986 and began working with David at the Elliott Funeral Home in Harper. When Teresa is not in the office she keeps busy with her flower garden, canning fruits and vegetables from their garden and crafting. She also is active in the Caldwell Community, serving on the S.H.A.R.E. Foundation (Saving Hometown and Rural Existence) and the Caldwell Chamber retail committee.
Sarah Mardis
Sarah Mardis, daughter of David and Teresa Mardis, graduated from Caldwell High School in 2007 and Kansas City Kansas Community College in May 2009, majoring in Mortuary Science. Sarah received her master Funeral Directors & Embalming Licenses in December of 2010. Sarah returned to Caldwell in November 2019 and works full time for the mortuary and Mardis Monument Company .
Rebecca Pontious, daughter of David and Teresa Mardis, graduated from Caldwell High School in 2009. Rebecca graduated from Cowley County Community College in May 2011 with a degree in Graphic Design. Rebecca is married to Ethan Pontious and have a son, Maverick, and daughter Lillian. They live in Newkirk, Oklahoma where she owns Becca's Custom Designs. She helps out at the Mortuary when she can.
Karen Sturm was born and raised in Caldwell, Kansas. She and her late husband, Harold, have farmed in the Caldwell area for over 45 years. They are the parents of two sons and have four granddaughters. Karen is active in the United Methodist Church and is a certified lay speaker for the Kansas West conference. She is the tourism director for the Caldwell Chamber of Commerce, chairperson of the Caldwell Historical Society Community Theater Group and serves on the board of the Kansas Cattletown Coalition. As a native of Caldwell she feels it is a special privilege to assist families in their time of need.